Exit Devices (Panic Bar) Installation/Repair
Panic bars, also known as exit devices or push bars, can make all the difference in an emergency.
Why Does Your Business Need A Push Bar?
panic bars can save lives in the case of a fire or other emergency.
Many business owners use panic bars on the doors to enable safe and quick exit during emergencies while ensuring the door's functionality.
These are mandatory in areas that carry out hazardous work or for buildings that have more than 50 people.
With the exit device, people inside an office can exit in case of emergencies like fire or other threats without needing to unlock the door.
The many types of exit devices include rim, Mortise, and concealed types.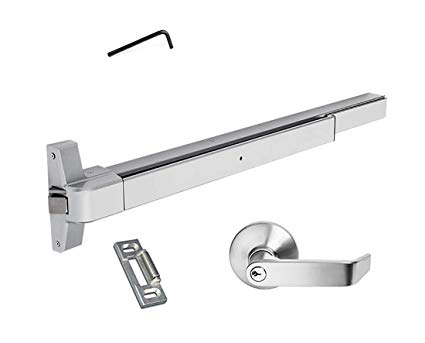 Functions of Exit Device Trim
Exit Only

Dummy - Entrance by trim when actuating bar is locked down.

Nightlatch - Entrance by trim when latch bolt is retracted by key. Key removable only when locked.

Classroom - Entrance by knob or lever. Key locks or unlocks knob or lever.

Passage - Latch bolt retracted by knob or lever

Storeroom (Lever Active) - Entrance by knob or lever only when released by key. Key removable only when locked.

Get More Information And Prices From Our Experts!
you can contact our experts right here. We'll help you choose the right exit device.
Most common exit device we install
We have a wide range of panic bar and exit device solutions that meet the needs of any environment.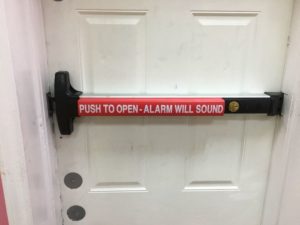 Panic bar with alarm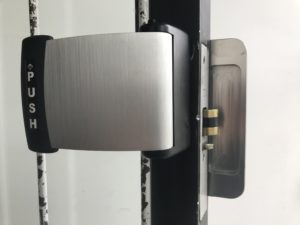 Push Paddle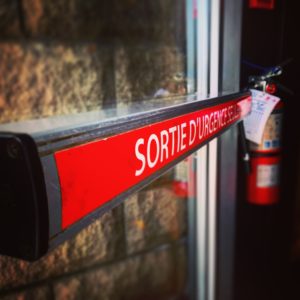 Emergency exit panic bar
What can go wrong with panic bars?
At Plateau Locksmith, we excel in the installation and repair of panic bars.
The mechanisms used in exit devices can wear out in time which can impair their function.
Some of the problems that require the expertise of a locksmith include worn out springs or jammed doors that prevent the doors from opening or shutting. It is also important to update the panic bars from time to time as per the latest safety code standards.
As the leading locksmith services provider in Montreal, we provide the most advanced locking mechanisms installation and repair.
We provide professional panic bar installation and repair services to ensure business buildings are geared up to meet any emergency.
Contact us today to install or repair exit devices and stay safe!